IQPS Building Management Suite
Open and scalable Building Management Services in the cloud
Secure/ Reliable/always Up-To-Date
IQPS Building Management Suite
Open and scalable Building Management Services in the cloud
Secure/ Reliable/always Up-To-Date
IQPS BMS Suite is a Cloud based service for multidisciplinary building management.
Through a secure connection(s), the data of building-related installations is made accessible to an open
and scalable Cloud-based Management System. Manage your building anywhere in the world 7×24. The
cloud services are offered through a SaaS agreement.
Powerful visualization, reporting, maintenance and alarm functions ensure smooth operation of the lighting system and allow ideal planning of maintenance cycles.

Integrate communicative systems with the open integration module that enables unambiguous management and operation or enriches other systems with additional data. The integration module has all open communication standards including, modbus, OPC, Web services, etc.

Real-time data from all processes such as cold and heat generators, distribution, air treatment and room controllers. AST (Alarm-Scheduling-Trending). Multi-User Graphical interface including BIM viewer.
Enrich processes or the degree of security with the combination of live video images. View online and offline images from one user interface and gain even more insight into the use of your building.

Complete insight into the energy consumption of your buildings, from one central (energy) management system. Integrate Energy meters and visualize them in the power management dashboard.

With the mobile workplace app for Android and IOS, data can be obtained and user settings can be adjusted. See which rooms or workplaces are in use, gain access to rooms or adjust temperature, light protection or sun protection settings. Push messages can also be sent in eg emergencies.
Gain insight into the use of your building with Real-Time localization services to support Smart use cases or asset tracking. With the RTLS module, multiple localization services can be read in and offered in a usable data format.

Only open systems have the future and can thus contribute to an eco-system in which the best applications can jointly form the best solution. Data can be exchanged between IQPS cloud and other applications through standardized API's.

Powerful graphical user interface for safe and procedural operation during the entire event treatment. A reduction of human errors and an unambiguous application of procedures and rights.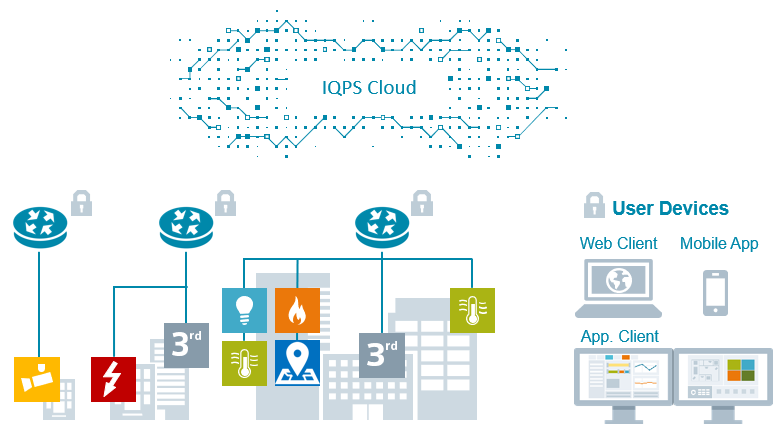 Daltonstraat 12
3335 LR Zwijndrecht

+31 (0)88-5001200

info@iqps-smartbuildings.nl